May 22, 2019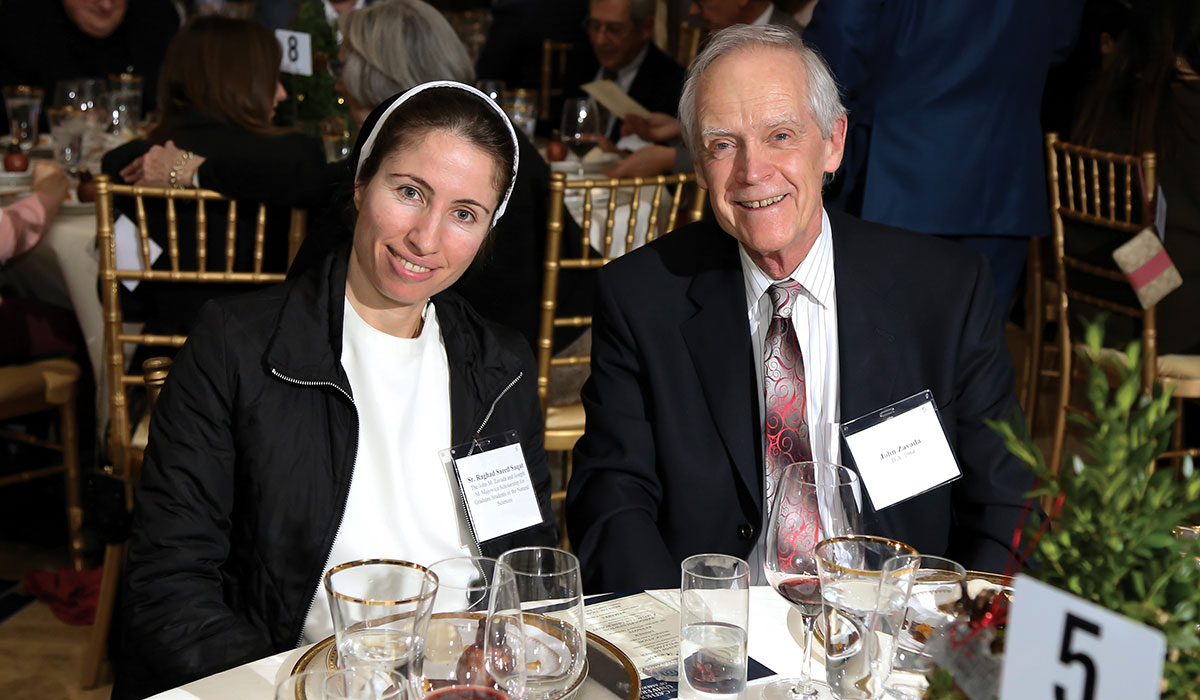 Physics student Sister Raghad Saeed Saqat with John Zavada, B.A. 1964, one of the donors of her scholarship.
"You have given these young people an example of the virtue of charity. It's the greatest of all virtues," said University President John Garvey during the third annual Scholarship Dinner honoring donors and recipients, held in December.
There was much to celebrate this year, including more than $16 million in scholarship gifts to help nearly 400 deserving undergraduate, graduate, and law students. The University also added 60 Impact Scholarships — an extra $5,000 per student each year recipients are enrolled. Impact Scholarships often make the difference in students being able to attend Catholic University.
Randolph Newton, B.Arch.E. 1952, M.C.E. 1954, a scholarship donor who passed away in June 2018, was honored during the dinner. Newton, who preferred to remain largely anonymous in his lifetime, left more than $9.6 million in his will to create a total of 22 scholarship opportunities. Scott Rembold, vice president for University Advancement, noted that the scholarships created by Newton's bequest will change the lives of future Cardinals in the fields of music, health, the sciences, and more.
The stories of scholarship recipients were featured in a slideshow playing throughout the evening, as well as a video highlighting students from the schools of nursing, arts and sciences, the Columbus School of Law, and the National Catholic School of Social Service.
"I realized that Catholic University was the right school for me the moment that I stepped on to the campus," said junior nursing major Kendra Dunn in the video, adding that she couldn't have enrolled at the University without her scholarship.
Mike Allen, vice president for student affairs, served as master of ceremonies for the evening, and Maryrose McInerney, B.A. 1978, spoke about why she and her husband, Bill, B.A. 1977, support scholarships.
Related News