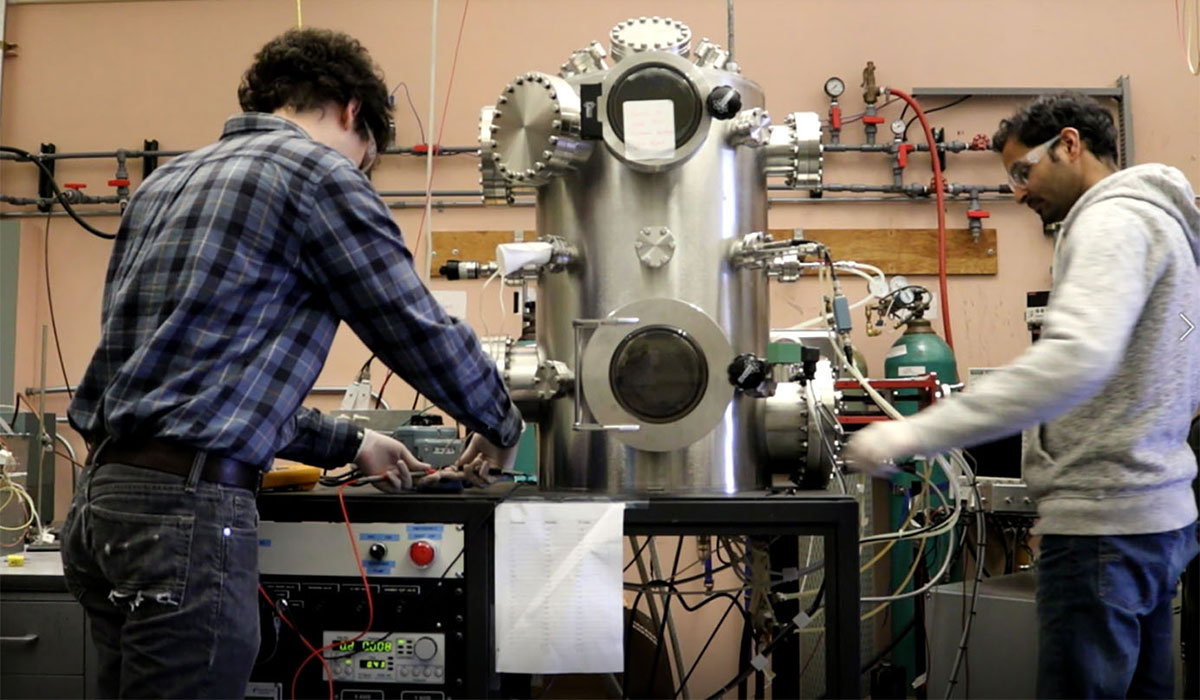 Accepting Applications for Fall 2021
Students interested in applying to the program should contact the program director, Abhijit Sarkar, at sarkar@cua.edu. 
Applied Physics and Nanotechnology are interdisciplinary fields built around the application of leading-edge physical principles and concepts. Knowledge of the relationship between the structure of materials at the atomic scale and their macroscopic properties provides the foundation for the development of new classes of materials and devices with tailor-made properties, and forms the basis for paradigm shifting technological advances.
Program Overview
The Department of Physics offers Master of Science (M.S.) and Doctor of Philosophy (PH.D.) degrees in Applied Physics and Nanotechnology.
This program is open to students from any of the sciences, mathematics, and engineering disciplines, and is designed to teach students from diverse backgrounds the fundamentals of applied physics and nanotechnology. The program is built around a hands-on, experimentally-focused curriculum taught by leading scientists and experienced instructors specializing in nanotechnology and materials physics. Students will be mentored by active scientists and researchers and encouraged to make full use of state-of-the-art facilities. A key goal of the program is to provide students with ample opportunity to learn the practical aspects of cutting edge experimental, nanofabrication, microfabrication, and characterization methods, leading to a skill-set that allows them to transition from academia to industry. The course work is designed around the needs of students from varied backgrounds and will provide the required conceptual pre-requisites.
Students with or about to earn bachelor's degrees in any of the sciences, in mathematics, or in engineering and other technical disciplines will be eligible for the master's program. Selection criteria for the program includes GPA and GRE scores, professional experience, and recommendations. Students will develop a course schedule in consultation with a member of the Physics faculty and the program director, who will serve as their advisor.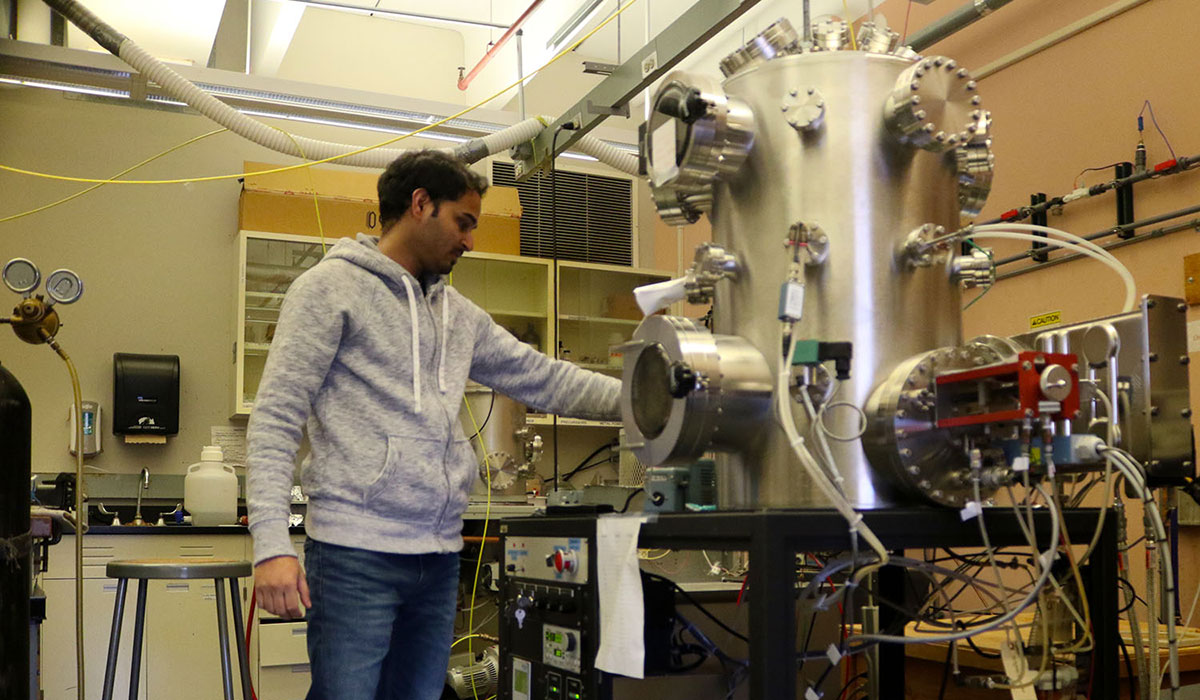 Academic Requirements & Core Courses
Candidates for the M.S. program must complete a minimum of thirty semester hours of graduate work while a PH. D. requires successful completion of at least fifty three credit hours of graduate course work, an disseration based on original research, and passing the comprehensive examination (in addition to other departmental and University requirements.) For successful completion of either degree, the cumulative GPA is required to be at least 3.0. If a student gets a 'C' (or lower grade) in a course he/she may be allowed (at the discretion of the program director) to retake that course to improve the grade to at least 'B'. Two 'C' grades will lead to automatic expulsion of the student from the program. Courses will be selected from an approved list of courses.
As the program is designed around the educational needs of a diverse group of students from different backgrounds such as biology, chemistry, physics, mathematics, and allied technical disciplines, all students will be required to take "Core Courses" as identified in the list of approved courses. Students will receive extensive guidance from their academic advisor and program director to tailor a course of study consistent with student interests and program requirements.
M.S. Non-Thesis Option
In the non-thesis program, the students will be required to take at least twenty-four semester hours from the list of approved courses. The remaining six credit hours may comprise courses taken in other departments at Catholic University with the director's consent. A cumulative GPA of 3.0 in courses selected in consultation with a faculty member and the program director will be the criterion for awarding the M.S. degree.
M.S. Thesis Option
In the thesis option, a maximum of six credit hours may be devoted toward independent research performed for the preparation of a thesis and at least eighteen semester hours must be from Applied Physics and Nanotechnology courses. Before deciding on the thesis option, students interested in this track will consult extensively with the program director. Interested students must select this option no later than the end of the student's first semester in the program. Courses will be selected in consultation with the program director such that no more than twelve credit hours may be accumulated from courses below 600-level. The remaining six credit hours may be out-of-discipline courses taken at Catholic University with the permission of the student's advisor or program director. A degree of flexibility in course selection will allow students to take courses offered in other departments of Catholic University. Students will require the program director's permission in the selection of these courses.
M.S. Thesis Project
Each student in the thesis-option category will be required to choose a thesis advisor and submit a project proposal to the program director, who will actively help the student in this regard. The thesis project will focus on subjects in the general field of applied physics and nanotechnology. Before a degree is awarded, students must make a formal presentation of their thesis work to a general audience, including the faculty of the program.
M.S. Degree on Continuing "4+1 Track"
Students pursuing an undergraduate degree in any science or engineering discipline or in mathematics at Catholic University can opt for the "4+1 Track" option for the M.S. in Applied Physics and Nanotechnology. In this track, after successful completion of their B.S. degree, the student will be able to earn an M.S. degree in two additional semesters or in approximately nine months. For the "4+1 Track" option, a student must take 4 courses stipulated by the Applied Physics and Nanotechnology program (12 credit hours or more) with good standing in Catholic University (cumulative GPA of 3 or more). Thesis option will not be allowed in the "4+1 track"; the students will take an additional 18 credit hours of coursework from the list of approved courses. These courses will be chosen in consultation with the program director following the completion of B.S. curriculum.
PH.D. 
Candidates for the Doctoral degree must complete a minimum of fifty three (53) semester hours of graduate work. For successful completion, a student must pass the comprehensive exam (after 53 hours) and all other CUA and Physics Department requirements. Students will be expected in their third semester (if not earlier) to select a faculty member from the Physics Department who will serve as their dissertation director. Together, they will identify an original research problem with the student embarking on independent research no later than after completing 30 credit hours of coursework. In order to qualify for the Doctoral degree, each student must complete independent thesis research which will be the basis of their dissertation. 
Approved Courses

Find which courses are approved for the master of science in applied physics and nanotechnology.

Learn More

Graduate Admission

Apply for acceptance in our master's and doctoral degree programs in Physics.

Learn More