Role Of Supernovae As The Producers of Cosmic Dust
Arkaprabha Sarangi
NASA Goddard Space Flight Center
Wed, March 6, 2019 - 4:00 PM
Karl Herzfeld Auditorium of Hannan Hall - Rm 108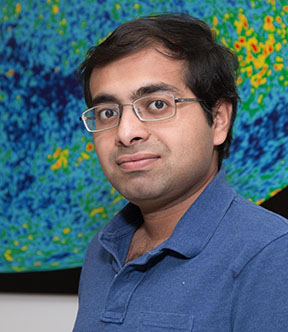 Cosmic dust grains are chemical compounds present in space, which are responsible for up to 50% of the total radiation from some galaxies. The formation of dust is controlled by a series of complex processes involving nucleation and condensation of molecules, small clusters and stable seeds. The necessary conditions are characteristics of evolved circumstellar environments or outflows, such as the ejecta of core-collapse supernovae (CCSNe: the final fate of massive stars larger than 8 Msun at main sequence). CCSNe provide a unique environment characterized by a rapidly evolving outflow of turbulent metal rich gas in non-steady state. They are known as prime dust producers in the galaxies of local as well as early universe. Yet, the mechanism of dust formation, the composition and morphologies of the grains, and the final budget of dust, remain poorly understood. In order to model the chemical signatures in the ejecta, we require an accurate knowledge of all the physical and chemical processes in the post-explosion era and several properties of the pre-explosion star. In this talk, I shall discuss the physics and chemistry of the SN ejecta, in light of their role as dust producers in the galaxies.
Refreshments served at 3:45 PM
If you have any questions about the Colloquium Series  or would like to make a donation please contact Adrienne Black, black@cua.edu or (202) 319-5315.