Reading the Aurora:  What It Tells Us About Space Weather
Robert Robinson
Research Professor - Dept of Physics; Catholic University
Program Director, NASA Goddard Space Flight Ctr.
Wed, October 10, 2018 - 4:00 PM
Karl Herzfeld Auditorium of Hannan Hall - Rm 108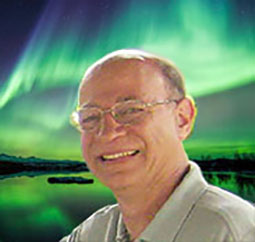 The aurora is the visible manifestation of the interaction of solar wind plasma with Earth's magnetosphere. The magnetic field lines that thread the magnetosphere effectively transfer energy and momentum very quickly over large distances, ultimately resulting in the deposition of energy in the ionosphere and thermosphere. Auroral luminosity, motion, and electrical properties all result from complex processes that govern the trajectories and energization of electrons and ions that produce the auroral light. Here we discuss the origins of auroral particle precipitation, the resulting altitude-dependent energy deposition, the motion of auroral forms, and the association between aurora and ionospheric currents. We demonstrate how that information provides insights into the origins of space weather effects on Earth. Thus, studies of auroral properties can help constrain and optimize the specification and forecast of space weather and its impacts on human technologies.  
Refreshments served at 3:45 PM
If you have any questions about the Colloquium Series  or would like to make a donation please contact Adrienne Black, black@cua.edu or (202) 319-5315.